Snow Plows
Snow Plows, Spreaders, and Accessories
Top of the Line Snow Plow Retailer
J&B Custom Classics & Trailer Sales carries SnowEx snowplows & spreaders. As a trusted leader in professional snow removal equipment, SnowEX offers a full line of options for your snow plow needs. Let us help you select the snow plow that best works for you. Our convenient Clio, Michigan location, and friendly staff offer the expertise you want when selecting snow removal equipment for your home or business.
Our certified professional installation will ensure that your equipment is running right and performs to its highest level possible. Whether you need a brand new snow plow, repairs, or maintenance on an existing plow J&B Custom Classics and Trailer Sales can help. Visit our Clio Michigan location to discuss your snow plow needs./p>
Snow Plows Clio Michigan
V-Plow
The HDV heavy-duty V-plows are built like nothing else on the market. Available in either durable powder-coated mild steel or rust-resistant stainless steel – and with either 8'6″ or 9'6″ blade widths – the plows boast 16-gauge flared moldboards that are reinforced by two robust angled power ribs. Double-acting angle cylinders, trip-edge protection, adjustable center cutting edges and responsive direct lift round out the many advantages of these feature-packed V-plows.
Snow Plows Clio Michigan
Light Truck
The SnowEx® line of Light Truck snow plows provides all the features of our professional grade plows in a package designed specifically for Jeep® vehicles, SUVs and compact pickups. The plows meet vehicle weight requirements without having to sacrifice performance, allowing driveways and other tight areas to be cleared in no time.
Snow Plows Clio Michigan
Regular-Duty
For personal plowing or light-duty commercial snow plowing jobs using half-ton pickups, the SnowEx® 7600RD and 8000RD are engineered to meet vehicle weight ratings and deliver excellent performance. Built with stronger and lighter high-strength steel, the units are ideal for tough conditions while putting less stress on your truck than heavier snow plows.
Snow Plows Clio Michigan
Heavy-Duty
For commercial contractors outfitting larger vehicles, only a heavy-duty snowplow will do…and the aptly named SnowEx® Heavy-Duty Series fits the bill. Powering ahead and rolling heavy snow farther with a 31″-tall steel blade, these plows feature a formed base channel that delivers extra stability. While vertical ribs, two angled Power Ribs and massive quad design provide added strength to prevent the blade from twisting, even under the most punishing winter conditions.
Snow Plows Clio Michigan
UTV Straight Blade
Give your utility vehicle professional-grade plowing performance by adding the SnowEx® UTV Straight Blade. The plow's heavy-duty, yet lightweight design allows it to handle snowbound sidewalks, paved walkways and other tight areas with ease.
Snow Plows Clio Michigan
Skid-Steer Plows
Get more out of your skid-steer with a SnowEx®Heavy-Duty straight blade snow plow or a versatile SPEEDWING™ snow plow with automatically adjusting mechanical wings. Attaching quickly to any brand or style of skid-steer loader, you can turn another vehicle already in your fleet into a snow removal hero with no additional wiring or controls.
Salt & Chemical Spreaders
Spreader Options
J&B offers the full line of SnowEX spreaders. Contact us or visit to discuss your spreader needs. As a local dealer we are able to provide you with any spreader within the SnowEX product line. Visit our Clio, Michigan location to discuss your spreader needs.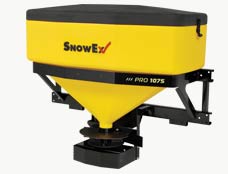 Contact Us With Any Questions Today!